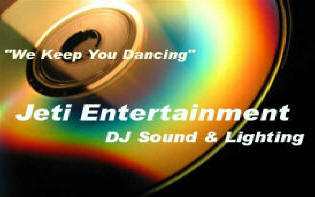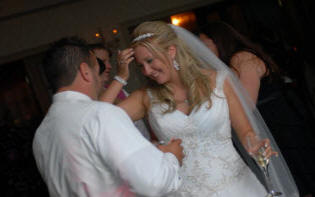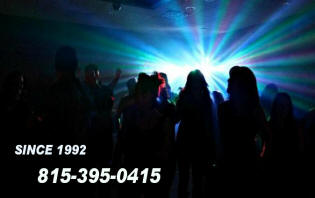 JETI ENTERTAINMENT DJ SOUND & LIGHTING SERVICE
"Northern Illinois Wedding Specialists"
WEDDINGS RECEPTIONS
Making your Wedding Day Special is our Goal. Whether your Planning a Simple or Upscale Wedding with all the Trimmings. We have the Perfect Package for you. From the first time you contact us you will feel Relieved Knowing that you are Dealing with a Professional Entertainment Service that has the Experience and Knowledge to Properly Assist you. We have set the Standard for Wedding Entertainment in Northern Illinois and are the Leading Wedding DJ Service for the Greater Rockford Illinois now Servicing most of Northern Illinois and Chicagoland with Top Quality Wedding Entertainment.
We are a 5 Star Rated Award Winning DJ Service that has been Entertaining guests of all ages for over 25 years with fun filled High Energy Celebrations. We provide our Brides & Grooms with Stress Free Fully Coordinated Wedding Ceremonies and Receptions along with the Area's Largest up to date Digital Music Library, Online Wedding Planning, Cutting Edge Sound & Lighting Equipment, LED Mood Uplighting, Name in Lights Monogram Projection, Wedding Cake Pinspotting, and Intelligent LED & Laser Party Lighting Systems. Let our 25 years Experience help make your Wedding Day dreams come true.
CUSTOM LED UP-LIGHTING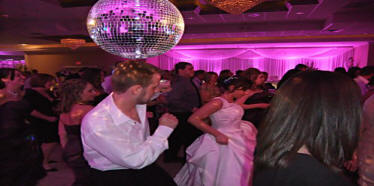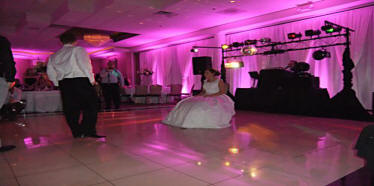 NAME IN LIGHTS PINSPOTTING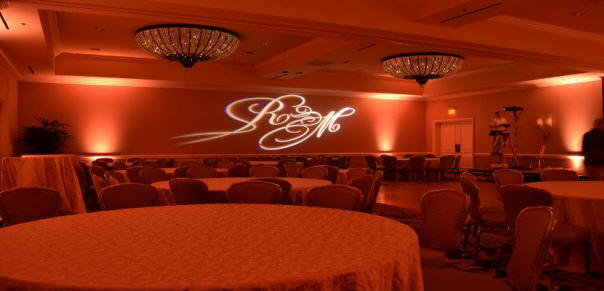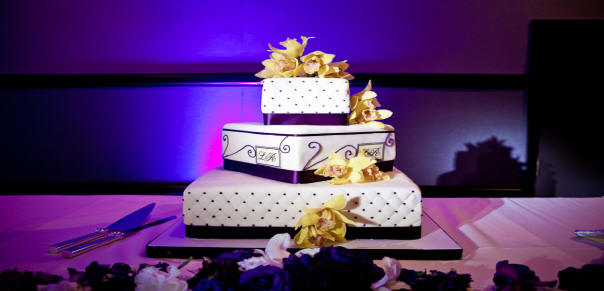 We Stride for Maximum Results at every Event and believe that Good Communication, Proper Planning and Special Attention to Fine Detail is Essential for every Wedding. We will help you Plan out and Execute all your Wedding Details by Providing you with an Initial Consultation, a Detailed Wedding Planning Outline, Top Music Selections, Full Wedding Coordination Services, Final Consultation and Complete Timeline Itinerary and for your Big Day. Please visit our Ceremony link for Additional Wedding Ceremony Information. Schedule a Free Consultation to see our Complete Portfolio Presentation.
BRIDE & GROOM TESTIMONIALS & REVIEWS
Our wedding was the BOMB! best wedding we have ever been to and not because it was ours, because you guys are without a doubt the best DJ's we've ever seen. Our final count was 225 and I think about 200 of them were there till the end. Thank you so much for playing the extra hour, no one wanted the night to end. We will definitely be referring our friends your way, excellent job! Thank you so much, Tim & Mary
Thank you so much for making our special day such a success. Everyone had a wonderful time, our guests were having so much fun on the dance floor that some of them forgot there was an open bar ! You guys Rock !! Thank you, Don & Kathy
Put us on your reference list! Everyone had a fantastic time and you were able to get them all on the dance floor. Your customer service gets an A+ always there to answer our questions and offer suggestions when we needed. Thanks for the memories, Jeff & Michele






IMPORTANT WEDDING FACTS
In 2017 the average of a wedding in the US was $35,329.00
During the planning stage of a wedding reception most brides say their highest priority is their attire, followed by
the reception site, caterers, flowers, cake, photographers, videographers and then their reception entertainment.
Within 1 week after their wedding 78% of brides that their entertainment should have been higher on their priority list.
All your wedding vendors combined (excluding entertainment) will make up approx. 80% of your wedding investment
and 20% of your wedding's success. Your entertainment will be responsible for 80% of weddings success.
81% of wedding reception guests says the entertainment is what they remember most about a wedding.
After the wedding 72% of all brides say they should have been more selective about choosing their DJ.
WEDDING PLANNING TIPS
Approx. 10% of your wedding budget should be for your entertainment.
Make sure your DJ provides you with a written agreement outlining your specifics and all his or hers policy's.
A customary deposit fee for a disc jockey is 10% – 25%, beware of larger deposits.
Book your DJ as soon as possible the best DJ services will book dates sometimes up to one year in advance.
Do not book a DJ that is not willing to meet you in person or provide you with a portfolio.
Not all DJ's have the same experience, knowledge and personality, pick only experienced professionals.
Your DJ should provide you with a list of references, photo albums, video's and music inventory to verify experience.
Make sure your DJ has a complete back up system on location to use if necessary.
Beware of hourly pay as you go plans, this could be sign of a novice DJ Service.
Recommended length for a formal dinner / dance wedding reception is 5-6 hours.
THINGS YOU SHOULD KNOW FOR MAXINUM RESULTS
Saturday night is most desirable for wedding receptions followed by Friday and then Sunday
Try to avoid a venue hall that cannot accommodate all your guest in one large open room for the entire event.
Your DJ setup area should be directly in front of the dance floor with no tables or obstructions in front of him or her.
Floor plan is vital, some venue providers will focus on the look of your floor plan and not the functionality.
Weddings that provide some type of open bar are more enticing for the guests to stay longer and dance.
Copyright © 1994 - 2018 Jeti Entertainment All Rights Reserved